Stryking specialises in sports fan engagement and monetisation by combining the real and virtual world to create genuine interaction opportunities for fans, stars and brands. Stryking operates the innovative fantasy sports platform Football-Stars, a thrilling and diversified gaming experience on web and mobile platforms for football fans worldwide. Fans get the chance to become coach and manager, they set up their own dream teams of real players and compete against other fans in leagues and daily challenges. The results are calculated, based on actual players' real-life performance data – straight from the real leagues.Stryking's fantasy sports platform is designed to provide hundreds of millions of fans the most immersive and interactive experience to manage teams, compete against peers in daily challenges and get rewarded with exclusive fan experiences. Nothing beats the passion supporters feel for their sport and their fantasy sports solution turns this passion into online engagement.
The Stryking team and advisors
The Stryking founding and management team comprises some of Europe's leading gaming, sports and digital marketing experts. There are over €100m in successful exits and combined leadership experience of over 50 years within the management team. The professional background of the management team lies in games, digital marketing, mobile apps and corporate finance. The team is backed by a strong group of investors and advisors who provide support in scaling the business in different areas and regions. Besides the lead investor True Global Ventures Ltd., a Hong Kong based angel fund, there are different private investors who also endorse Stryking.
Their project: Football-Stars
More thrilling than mere management games, more challenging than sports bets: Football-Stars is putting football fans in the virtual coach seat! Divided into two fully functional modes – Challenge Mode and Manager Mode – Football-Stars offers whatever football fans' hearts' desire. A Challenge is essentially a contest in which users put together a team of real football players contending in a single or multiple real matches. The team has to comply with some restrictions and reach a certain objective, e.g. 'most passes' or 'best overall performance'. The user plays against other experts and fans in order to find the team that will perform best in those matches. Users of the Manager Mode get to manage their individual teams to fight for the title over the course of an entire season. Both modes are based on football players' real-life performance data, which is provided by leading sports data firm Opta.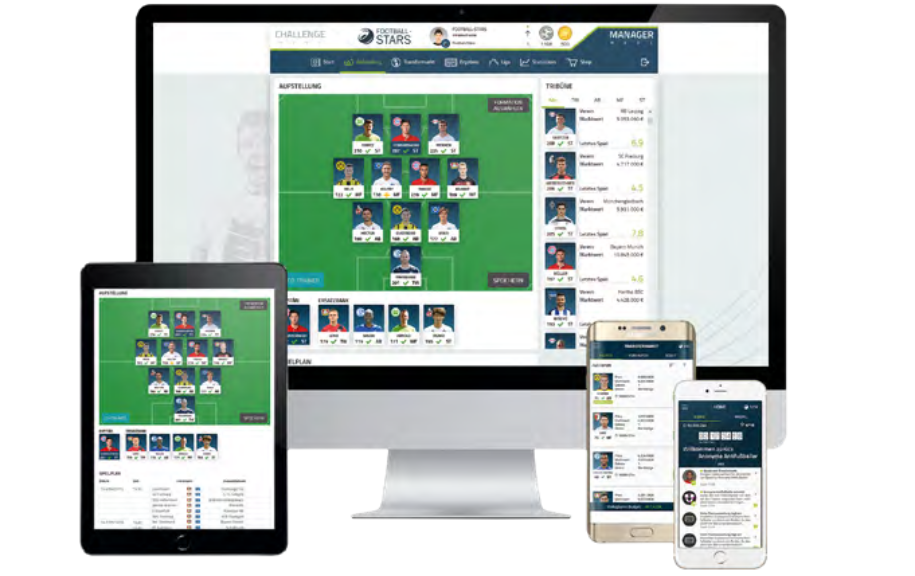 Users can play daily challenges based on all European top football leagues as well as Champions League, Europa League and national team matches. They are part of a select group of platforms to have secured an official license from the German Bundesliga which allows us to use all player pictures and club logos, creating an even more authentic gameplay experience.
STRYKZ Developer Program
With the Stryking Developer Program they will introduce a specific scheme for open source developers and other qualified participants to take part in the development process of Football-Stars and Stryking PaaS. The developers have to sign-up for the program and will be approved by Stryking. When contributing quality source code to the project, they will be rewarded with STRYKZ. By offering the developer program, they will generally reduce the time it takes to develop new features and enhance the platform. At the same time, by rewarding tokens, they will increase distribution and liquidity of the STRYKZ token.
Source: youtube/STRYKZ.io
---
For more information, visit the WEBSITE or read the Whitepaper.