MyCryptoBank is an online bank allowing any client registered in the electronic bank system to make a full range of bank operations, additional operations with cryptocurrency (payment processing, debit cards, credits and cheap investment products, use of cryptoassets as credit security and many others) based on Blockchain technology without visit of department. So, MyCryptoBank provides services of client's remote access to accounts, products and bank services in order to make banking operations.
MyCryptoBank offers its clients a multifunctional platform of banking service, which represents a hybrid system combining digital and traditional currencies. The use of digital currencies makes operations faster and cheaper, while traditional currencies guarantee practically all-round acceptance and validity. One account combination allows clients simultaneously using advantages of both types of currencies.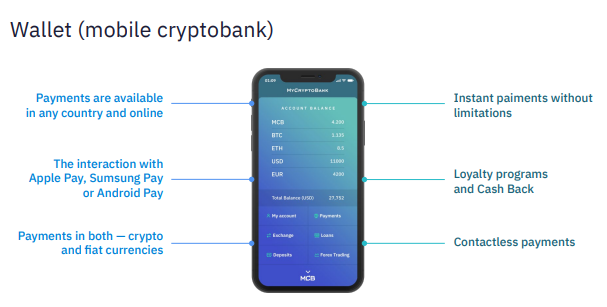 This is a mobile application, representing a set of payment services for its clients. Services include emission of virtual cards of payment systems. Until this bank receives a license this service will be performed with the participation of bank-partners but soon, MyCryptoBank will be able to issue cards independently. All main operations of MyCryptoBank will be available through mobile bank: cryptocurrency exchange, cryptocurrency conversion to fiat money and vice versa, immediate fund transfer all over the world, request and issue of credits, bank deposit opening and Forex trade. Loyalty programs will also be organized with the possibility to receive cashback on operations or balance. However, the interaction with Apple Pay, Samsung Pay or Android Pay will be organized and contactless payment possibility will be performed too.
Crypto ATM and Cryptomachines
MyCryptoBank Crypto ATM realize for its clients a possibility to deposit and withdraw funds through the own chain of ATM (installation of more 1000 crypto ATM is planned) and through ATM of external organizations for maximum comfort of clients. Clients will pay commissions for all deposits and percents for cash withdrawal through ATM.
Further development will inevitably make use of cryptocurrencies as a norm even for everyman. To achieve this result, an easy possibility is required for each user to purchase and sell cryptocurrency. New ATMs will give such an opportunity. Up to now, thousands of advanced users used PCs for the creation of digital wallets and making purchases, but with wide application of crypto ATM any use of digital currencies will become available for millions of people. Through MyCryptoBank cryptomachines, differing from crypto ATMs, only cash deposit is possible but cash withdrawal is impossible, analogous to current payment terminals of different financial organizations. Also, crypto ATM monitors will give the possibility to immediately purchase cryptocurrency with a client's wallet. For this, a client should select available cryptocurrencies, deposit the account and confirm a purchase, further, an exchange is performed at market price and the client will receive cryptocurrency purchased to his wallet.
Investment prospects
The financial model that we've developed will ensure cost-efficiency of their project as early as by 2020. Once launched, MyCryptoBank ecosystem is easily scalable and supports servicing of millions of customers across the globe. During the preliminary stage their team has already scheduled a number of steps required to run a successful cryptobank, and their success is on the way. MCB token is a Utility token, and that's why it provides no profit distribution between its owners. However, this is the key benefit of the tokens from the point of view of the investors. Money gained from profit and saved within the MyCryptoBank ecosystem will fuel further development of their business. MCB tokens emission is limited, however demand for the tokens will continue to grow along with increasing number of MyCryptoBank customers. Growing demand along with limited supply will as a natural result increase the price of MCB token, which in its turn will add up to ROI.
Source: youtube/MyCryptoBank
---
For more information, visit the WEBSITE or read the Whitepaper.